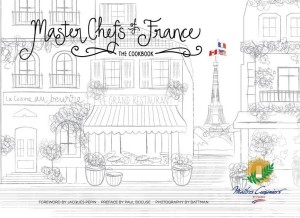 Produced in partnership between the Maîtres Cuisiniers de France and renowned photographer Battman, this 382 page, full-color cookbook showcases the pinnacle of modern French cuisine.
77 of the 80 Chefs, including our own Chef José Gutierrez, belonging to the USA-Canada Chapter of the Maîtres Cuisiniers de France | MCF-USA have put together their first (savory only) cookbook snapped by Ph'ood photographer extraordinaire Battman, founder of The Chefs Connection.
The chefs live and work in 21 States in the US, in Canada, Grand Cayman and St. Lucia. You will have seen some of them on TV; some have won multiple awards at prestigious Culinary Recognition Events; and some will not be known to you yet. With only 500 Chefs worldwide in the global organization, you will enjoy their vibrant and creative vibe.
The book and its contents is endorsed and blessed by Paul Bocuse and Jacques Pepin, both French culinary mentors to chefs worldwide. Each recipe is beautifully photographed by the world-famous Battman, and presented in striking color with an 8.75" x 12" hardcover landscape format. Curated by MCF-USA/Canada President Jean-Louis Dumonet, and under the passionate direction of Karen Dumonet, this exciting collection of savory dishes, 154 in all, is equally tempting to both palate and eye.
The book will available for purchase September 15th on Amazon and copies autographed by the photographer are available at www.thechefsconnection.com
We will also have copies available for purchase at River Oaks, and Chef Gutierrez will even sign them for you! Makes a great Christmas gift!