Press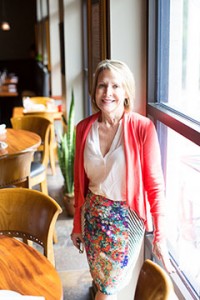 Commercial Appeal | Memphis Food & Wine Fest Almost Here • Oct. 2016
Memphis Magazine | City Dining Tidbits: Memphis Food & Wine Festival • Sept 2016
Commercial Appeal | Jean-Georges to Appear at Memphis Food & Wine Festival Coming Oct. 15 • Aug. 2016
Mariani's Virtual Gourmet | Memphis Eats • Aug. 2015
Cara Greenstein's Caramelized Blog | Cheesy Peasant Potatoes • Feb. 2015
Cara Greenstein's Caramelized Blog | ArtsMemphis dinner at the James Lee House • Feb. 2015
StyleBlueprint | Memphis Restaurant Guide • Feb. 2015
Courier-Journal | Valentine's Day Cuisine • Feb. 2015
Memphis Magazine | River Oaks Catering • January 2015
Flavor & The Menu | Chef José's Green Tomato Jam • January 2015
StyleBlueprint | MoJo Cookies: SB Finds Memphis • July 7, 2014
StyleBlueprint | Colleen DePete: FACES of Memphis • June 22, 2014
StyleBlueprint |  Tartine: Memphis Menus – Delicious Lighter Fare for Summer Days • June 18, 2014
Local Palate | Eat your way through Memphis • May 2014
Nashville Lifestyles | Peach Mint Julep
Plate Magazine | Devil in the Details • March-April 2014
At Home Memphis | French-American and Fresh: River Oaks • March 2014
The Daily Meal | How Chefs Stock their Stockings (Slide 25)
Southern Hospitality Magazine | Holiday Gift Guide • December 2013
River Oaks Peach Julep Recipe
Bon Appétit • August 2013
Recipes & Menus | recipes
Peach Julep
Good ginger beers are made with actual ginger and deliver a nose-tingling hit of spice along with bubbles. Look for Fever-Tree, Reed's, or Fentimans brands.
Food, wine, jewels: France impresses at gala for Dixon Gallery exhibition
Jackson Sun • June 26, 2013
"I'm twice as Southern as most everyone as I was born in the South of France, and I live in the South. I love it and am proud of it," said Master Chef José Gutierrez, of River Oaks Restaurant.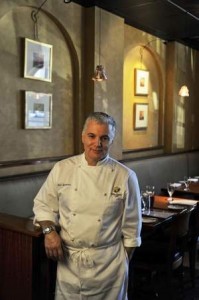 Gutierrez, who has made his home in Memphis for more than 30 years, is known to many in Jackson for the numerous times he has come here in support of various charities. Gutierrez was put to the test when he was called on to prepare a classically French menu to pair with extraordinary French wines at a gala dinner showcasing French jewels.
The recent opening night gala at the Dixon Gallery and Gardens of "The Bijoux parisiens: French Jewelry from the Petit Palais in Paris" was the occasion for the show-stopping presentation. His culinary creativity and artistic presentation equaled the sparkle of the inimitable jewels from the famous French jewelry houses of Boucheron, Lalique, Cartier and others.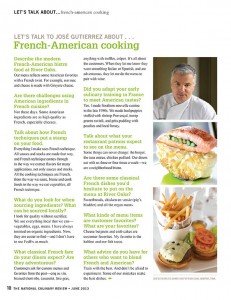 Let's Talk to José Gutierrez About …
French-American cooking −
The National Culinary Review • June 2013
Q: Describe the  modern French-American bistro food  at River Oaks.
A. Our menu reflects some American favorites with a French twist. For example, our mac and cheese is made with Gruyere cheese.
Q. Are there challenges using American ingredients in French cuisine?
A. Not these days. Some American ingredients are as high quality as French, especially cheeses.
The French Connection
Memphis Magazine • February 2013
After thirty years in Memphis, River Oaks chef/owner Jose Guitierrez reflects upon his distinguished culinary career.
Tchin-Tchin! Chef José Gutierrez celebrates 30 years in Memphis
Memphis Flyer • October 2012
Arguably Memphis' first celebrity chef, French native José Gutierrez was a progenitor of fine dining when this barbecue town was barely a blip on the culinary radar. He was named one of the country's best new chefs by Food & Wine in 1990 and received the eminent title of Maître Cuisinier de France in 2011. He held the reins at Chez Philippe for 22 years before opening his own downtown restaurant, Encore, in 2005, then heading to River Oaks in East Memphis in 2009. As he celebrates his 30th anniversary in Memphis and his first anniversary as owner of River Oaks, Gutierrez sits down to talk about what he's learned.
Chef José Gutierrez marks time in Memphis, restaurant ownership at '30 plus one' celebration
Commercial Appeal • October 2012
When José Gutierrez arrived in town in 1982, Wyeth Chandler was mayor, the Netherlands was the honored country of Memphis in May, and The Peabody had been reopened less than two years. He was 23 when he was given charge of Chez Philippe and told this by patriarch Philip Belz:"He said, 'Jose, the only thing we want you to do is put Chez Philippe on the map,' " Gutierrez said. "I said, 'Oh, so that's all,' and in about six months, we were in The New York Times."
It was a grand time for Gutierrez and The Peabody. The flagship restaurant was opulent; the chef, dashing. Accolades and awards came to both. Food & Wine magazine named Gutierrez one of its Top 10 Best New Chefs, the restaurant earned a four-star Mobil rating. Julia Child came. Numerous lavish chef dinners were thrown, menus were paired with paintings, were built around simple foods such as eggs, and Gutierrez traveled, cooking in places as lofty as The Ritz in Paris.
Mojo Rising
Inside Memphis Business • July 2012
The Memphis sweets market is thriving, and one of the newer treats on the scene comes from MoJo Cookies: a monstrous six-ounce cookie with dark chocolate and walnuts.
Jolene DePete and her mother Colleen run their growing cookie business out of River Oaks restaurant, where Colleen is general manager and wife of head chef José Gutierrez. The mother-and-daughter pair began MoJo Cookies after Jolene's brother passed away in 2006. Joseph "JoJo" DePete was only 26 years old.
From the heart: Romantic meal starts with knowing what your sweetheart really likes
Commercial Appeal • February 2012
Valentine's Day is the second most popular day of the year (after Mother's Day) for Americans to dine out, according to the National Restaurant Association. So surely there is some connection between romance and food.
Chef José Gutierrez of River Oaks Restaurant in East Memphis is all too willing to explain how romance and food intertwine. "Effort is what is romantic," Gutierrez says. "Showing that you know the other person's tastes, picking a wine they will like, intention has to be there. If you misread what they will like, or do not put in some effort, food won't make up for it. You cannot replace heart and soul with a recipe."
Present! from the Memphis Flyer, December 2011
Rather not risk getting jostled with the mall herd? Or just looking to mix up your holiday gifts this year? Memphis is full of locally produced foods, from coffees and sauces to baked goods and grits. Consider making a basket of local treats for your friends and loved ones.
One of the newer treats on the market this season comes from MoJo Cookies: a monstrous six-ounce cookie with dark chocolate and walnuts.
Jose Gutierrez Named Chef of the Year award from the Maîtres Cuisiniers de France, June 2011
Another Memphis chef is in the national spotlight. This time it's Jose Gutierrez, who has received the Toque d'Argent-Trophee Andre Surmain, which is Chef of the Year award from the Maîtres Cuisiniers de France.
Gutierrez won over all other chefs in the U.S. and Canada who are members of the group.
"I am very honored, because the people who vote for me are also chefs," he said. "And I get to take the toque from Michel Richard, who is in my opinion the greatest chef in the United States right now."
Southern Sophistication from Memphis Magazine, November 2011
THE LAST TIME I ate at River Oaks was memorable not for the excellent food, but for my friend's obnoxious behavior. He threw back one too many cocktails, and I was so embarrassed by his off-color humor that I didn't return until after chef Jose Gutierrez brought his estimable talent to this popular East Memphis location.
It's been two years since Gutierrez moved to River Oaks after closing his restaurant Encore, and his culinary finesse is as polished as ever. In June, Gutierrez was named Chef of the Year by the Maitres Cuisiniers de France, an honor he now shares with luminary French chefs Daniel Boulud and Jacques Pepin.
•Restaurant Review from The Commercial Appeal, April 13, 2007
River Oaks, (5871 Poplar at I-240 at the Park Place Hotel; 683-9305) The revamped kitchen at comfortable and well-designed River Oaks turns out bountiful dishes in the eclectic American fashion, doing particularly good work with fish and seafood. Don't miss the generously proportioned crab cakes or entrees of roast cod or grouper.
Memphis Magazine "Best Of Memphis" Poll
And finally, the one we've all been waiting for. And our experts say the winner is . . . River Oaks. They must be doing something right there, as this newly opened fine dining establishment has won the hearts of foodies across the city. Congratulations.